Three-Toe
Character Information

Gender:

Male

Age:

unknown

Hair Color:

Sandy

Eye Color:

Brown
Relationships

Family:

Ma (mother)


Pa (father)
Sister (sister)
Brother (brother)
Three Finger (uncle)
Saw Tooth (uncle)
One Eye (uncle)

Friends:

His family

Employer:

Three Finger (mentor)

Enemies:

Chavez
Floyd
Series Information

Talent:

Trap Setting
Series Information

Status:

Deceased

First appearance:

Wrong Turn 2

Last appearance:

Wrong Turn 3: Left for Dead

Portrayed By:

Borislav Petrov
Three-Toe is is the youngest son of Ma and Pa. After his family's death he is taken into the care of.
Wrong Turn 2
Edit
Three Toe is the third child of Ma and Pa, and born during the events of the second film. He was born hideously deformed. At the end of the film, he is being cared for by three finger, first trying to feed him with a bottle of polluted water before feeding him with a severed finger.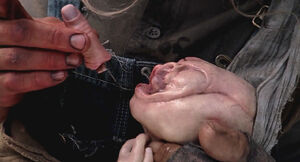 Wrong Turn 3
Edit
Years later Three-Toe was being raised by Three Finger who was teaching the young mutant how to set traps and kill others, when the group of immates became lost in the forest Three Finger and Three-Toe began to stalk them and planning to kill them all. However Chavez the self proclaimed leader of the immate group ran into Three-Toe and subdued the young mutant, amazed it was just a kid and pointed out the three toes. Members of the immates held Three-Toe down as he was knocked down, using a knife they decapitated Three-Toe and placed his head on a stake. Moments later Three Finger discovered Three-Toe's severed head and screamed in rage stroking the head of his loved one, after this Three Finger went on to hunt the immates to get revenge for Three-Toe's murder.