"
We have to find a way to lock ourselves in
"

— Sara
Sara
is a character from Wrong Turn 4: Bloody Beginnigs (2011). She is played by Tenika Davis.
Biography
Edit
In 2003, Sara is a student at Weston University in West Virginia and is dating Bridget. She has a brave and bold personality and she likes spending her time with Bridget.
The first time that she appeared was when she and Bridget were having sex in the same room with Jenna and Vincent before Kenia appeared and interrupted them. Sara invited Kenia to have sex with them, but Kenia refused as she is not a lesbian. Kenia told them to be prepared for going snowbiling outside.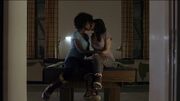 Sara and Kenia ride off as the two survivors until they are beheaded by a fence of barb wire killing them both as one of the brothers come and take their heads and drive off.
Ad blocker interference detected!
Wikia is a free-to-use site that makes money from advertising. We have a modified experience for viewers using ad blockers

Wikia is not accessible if you've made further modifications. Remove the custom ad blocker rule(s) and the page will load as expected.