Neil is a character in Wrong Turn 2: Dead End. He is portrayed by Cedric De Souza.
Biography
Edit
Neil is part of the production team in Apocalypse Game and Michael's best friend. He helped him make a video for the introduction of the program.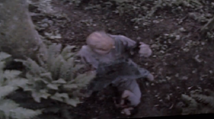 After the game started, Neil went to the middle of the forest to urinate. Three Finger appeared behind him with a knife. He grabbed Neil and slashed his throat with the knife. As Neil fell to the ground, Three Finger then scalped him and took his hair as a wig. He than dragged his body away.
Ad blocker interference detected!
Wikia is a free-to-use site that makes money from advertising. We have a modified experience for viewers using ad blockers

Wikia is not accessible if you've made further modifications. Remove the custom ad blocker rule(s) and the page will load as expected.