Michael "M" Epstein is a character in Wrong Turn 2: Dead End. He is portrayed by Matthew Currie Holmes.
Biography
Edit
Michael, who is nicknamed 'M', is the reality shows cameraman. After making sure that all the equipment is set in place, he realizes that one contestant Kimberly has not turned up for the show. M then convinces the shows producer, and his girlfriend, Mara to take her place as a contestant.
M films the shows host, Dale Murphy, telling the contestants the rules of the show, before off-screen telling them to try and make the show look 'real'. Despite the contestants having head-set cameras, M also films them. When the contestants are split up into teams, M follows Elena and Jake first.Despite M and Elena's attempts to create sparks between Jake and Elena, Jake repeatedly rejects her. M tells him that they are the sex of the show, and to boost ratings need to become a couple, however Jake declines and leaves. M is about to go back to his RV and rethink story lines, when an angry Elena desperate for screentime performs oral sex on him. The pair do not realize that Mara has witnessed this and is devastated as she thought he was 'the one'. After the oral sex, M leaves Elena and goes back to the RV.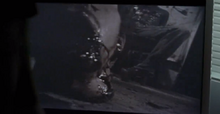 While at the RV, he realizes some of the contestants cameras are not working. Trying to find the problem, he does not realize two of the mutants getting into the truck until they begin to drive. M is then attacked by one who stabs him in the shoulder before being taken back to the abandoned mill. Later, Jake reaches the mill and finds the RV. After going in, he watches in horror as M is Killed by Ma. After Jake and Nina are captured, the mutants are shown to cut up M's body and eat it for dinner. He was the seventh person to die.