Julian Jones is a character who appeared in Wrong Turn 5:Bloodlines. He is played by Oliver Hoare. He is best friends with Billy, Gus, Lita and Cruz. He almost witnessed Cruz's death but instead he looked around the back of his cloth because a little while ago, he was hit with a paint balloon in the back by some kids.

Death: He wanted to help his friend, Billy to find Cruz so he did. They find her but Saw tooth and One eye attack them. They wake up and were killed by Three Finger. He was run over by the same snow blower that decapitated Billy. He is the 7th person to die. He was the fourth one of the friends to die.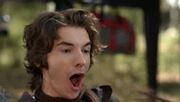 Ad blocker interference detected!
Wikia is a free-to-use site that makes money from advertising. We have a modified experience for viewers using ad blockers

Wikia is not accessible if you've made further modifications. Remove the custom ad blocker rule(s) and the page will load as expected.