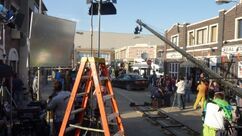 Fairlake is a small town in Greenbrier County, West Virginia and is home to The Odet Family, a family of inbred deformed cannibals.
It was believed that the town of Fairlake used to be home to one of the many breeds of human cannibalism and one night after having a fight with the hills people, the whole town of Fairlake where then slaughtered and eaten by the hillbillys, which may be ancestors of the Odet Family. The massacre has been criticized as the most outragous massacre of the state and to this day, no one knows what truely happened that night. The town now organise a event for the massacre called the Mountain Man Festival.
Locations
Edit
Fairlake Mill Edit
The Fairlake Mill is an abandoned mill in Fairlake, it appears in Wrong Turn 2: Dead End. It was believed that the staff were most likely slaughtered by Ma and Pa who used it as a home for their children aswell as themselves. After the events of the second film it is unknown if it was demolished or searched by police.
Hobb Springs Resort Edit
Hobbs Springs Resort is a hotel resort in Fairlake and was believed to be owned by caretakers and siblings, Jackson and Sally Hilliker. It is a huge landmark of The Odets Family.
Groove Motel Edit
Groove Motel was a small motel at the end of a street in Fairlake seen in Wrong Turn 5: Bloodlines. Cruz, Julian, Lita and Gus booked themselves in there for the night while Billy was in prison. Since they did not return due to all being killed, it is possible they gave their room away to other people from the festival.
Appearences
Edit