Chris is a character in Wrong Turn 2: Dead End. He is portrayed by Bro Gilbert.
Chris
Character Information

Gender:

Male

Hair Color:

Blonde

Eye Color:

Brown

Occupation(s):

Tech
Relationships

Friends:

Wojo
Series Information

Status:

Deceased

First appearance:

Wrong Turn 2: Dead End

Last appearance:

Wrong Turn 2: Dead End

Portrayed By:

Bro Gilbert
Biography
Edit
Chris and his friend Wojo helped Michael set up the cameras around the forest for the game. Chris and Wojo then leave and head to a hotel they were talking about.
They were killed off screen. Chris and Wojo never made it to the hotel. When Amber and Jonesy find a small camp and find a piece of meat cooking over a fire that is actually Kimberly's leg, we see the same shirts that Chris and Wojo where wearing hanged up on a rope with other clothes, indicating they were both killed.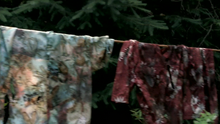 Ad blocker interference detected!
Wikia is a free-to-use site that makes money from advertising. We have a modified experience for viewers using ad blockers

Wikia is not accessible if you've made further modifications. Remove the custom ad blocker rule(s) and the page will load as expected.